Fun quotes from evolutionists about our origins, courtesy of ICR zoologist Frank Sherwin:
"We thought we had just about nailed human evolution, now everything is up for grabs again." - Ed Yong, New Scientist, July 30, 2011, p. 35.
"The
origin of our own genus remains frustratingly unclear." - Bernard Wood, paleoanthropologist, in Proceedings of the National Academy of Sciences, June 15, 2011.

"But with so little evidence to go on, the origin of our genus has remained as mysterious as ever." - Kate Wong, 'First of Our Kind' Scientific American, April 2012, p. 32.

"The last common ancestor of chimpanzees and humans remains a holy grail in science...." - Jennifer Viegas, Discovery News, 2010 Discovery Communications.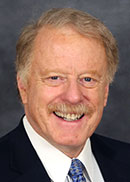 | | |
| --- | --- |
| Name: | Frank Sherwin |
| Title: | Research Associate, Senior Lecturer, and Science Writer |
| Specialty: | Zoology, Oceans, Noah's Flood, Microbiology, Dinosaurs |
Frank Sherwin received his bachelors degree in biology from Western State College, Gunnison, Colorado, in 1978. He attended graduate school at the University of Northern Colorado, where he studied under the late Gerald D. Schmidt, one of the foremost parasitologists in America. In 1985, Mr. Sherwin obtained a masters degree in zoology. He published his research in the peer-reviewed Journal of Parasitology. He contributes his scientific expertise to a variety of ICR's publications on creation science. He is the author of The Ocean Book and co-author of The Fossil Record: Unearthing Nature's History of Life and The Human Body: An Intelligent Design, and is one of ICR's most sought-after speakers.
Available books by Frank Sherwin: