Description:
Dr. Fernandes presents evidence for God's existence by appealing to common aspects of human experience. He utilizes a cumulative case and argues that belief in God is more reasonable than atheism on each of these aspects of human experience.
About the Speaker:
Files:
Download Windows Media Video file:
Download RealPlayer Video file:
Download Audio File
---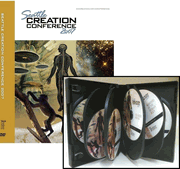 This seminar was recorded during the
Seattle Creation Conference
, August 2007 at
Calvary Chapel of Lake Stevens
, WA.
It may be viewed free online or downloaded to your computer as either a video or audio. A DVD can be purchased at
our webstore
as an individual title or the entire conference may be obtained as a
compilation of 10 disks
.